Pharmacovigilance is so much easier within the confines of a clinical trial. Everything is under close medical observation, any concomitant medication is well-known, and cause and effect is fairly easy to prove.
However, the GCP rules that protect trial participants may actually make the ADRs that affect vulnerable groups harder to detect until it's too late. Partly it's an issue of scale – it doesn't take a genius to work out that an adverse reaction affecting only one in 10,000 may not be detected in a trial with only 1,000 participants.
The other problem lies with the characteristics of the vulnerable group itself. For example, trials are only designed to include children or pregnant women if there is a clear and defined need to include them and evidence that the potential benefits are likely to well outweigh the heightened risk.
This not only makes ADR detection harder for these groups but can also unintentionally increase the risk to them of taking new drugs.
Most pregnant women are likely to take at least one prescription drug at some time during pregnancy, and there is much less information about the safety of such use for the mothers and their unborn babies than for other, potentially less vulnerable, groups.
Pregnant women with chronic diseases may face especially tough decisions as they balance the risks to their health with that of their unborn children.
One answer is to make it easier for patients to report their own ADR observations.
A European Commission-funded project, called PROTECT (the Pharmacoepidemiological Research on Outcomes of Therapeutics by a European ConsorTium) was designed to test whether patient using post-market drugs could be a reliable and quantifiable source of ADR information.
The project used 'direct-to-patient registries' to allow consumers to record health information, such as – what treatments they use (prescribed as well as any other treatments); how well they adhere to treatments prescribed by their doctors, and why or why not; as well their personal habits, home environment and workplace.
PROTECT brought together Quintiles, several academic research sites and the European Medicines Agency. The Quintiles part of the work specifically looked at potential benefits in identifying risks to pregnant women, with participants from Denmark, the UK, the Netherlands and Poland.
Roughly one quarter of the 2,000 participants were recruited during the first trimester of pregnancy – a crucial time in terms of foetal development. Data on birth outcome was also collected from those who kept reporting throughout the duration of their pregnancy.
Crucially, the self-reported data was found to be broadly consistent with birth outcome data taken from national registries in Denmark and with electronic medical record data in the UK. The inference is that data like this could make a useful contribution to conventional pharmacovigilance systems.
The comparative benefits of pre- and post-market data are examined in the Whitehall Training course, Pharmacovigilance 1 – Drug Safety.
Please click below to download a copy of our useful guide to using post-market ADR data.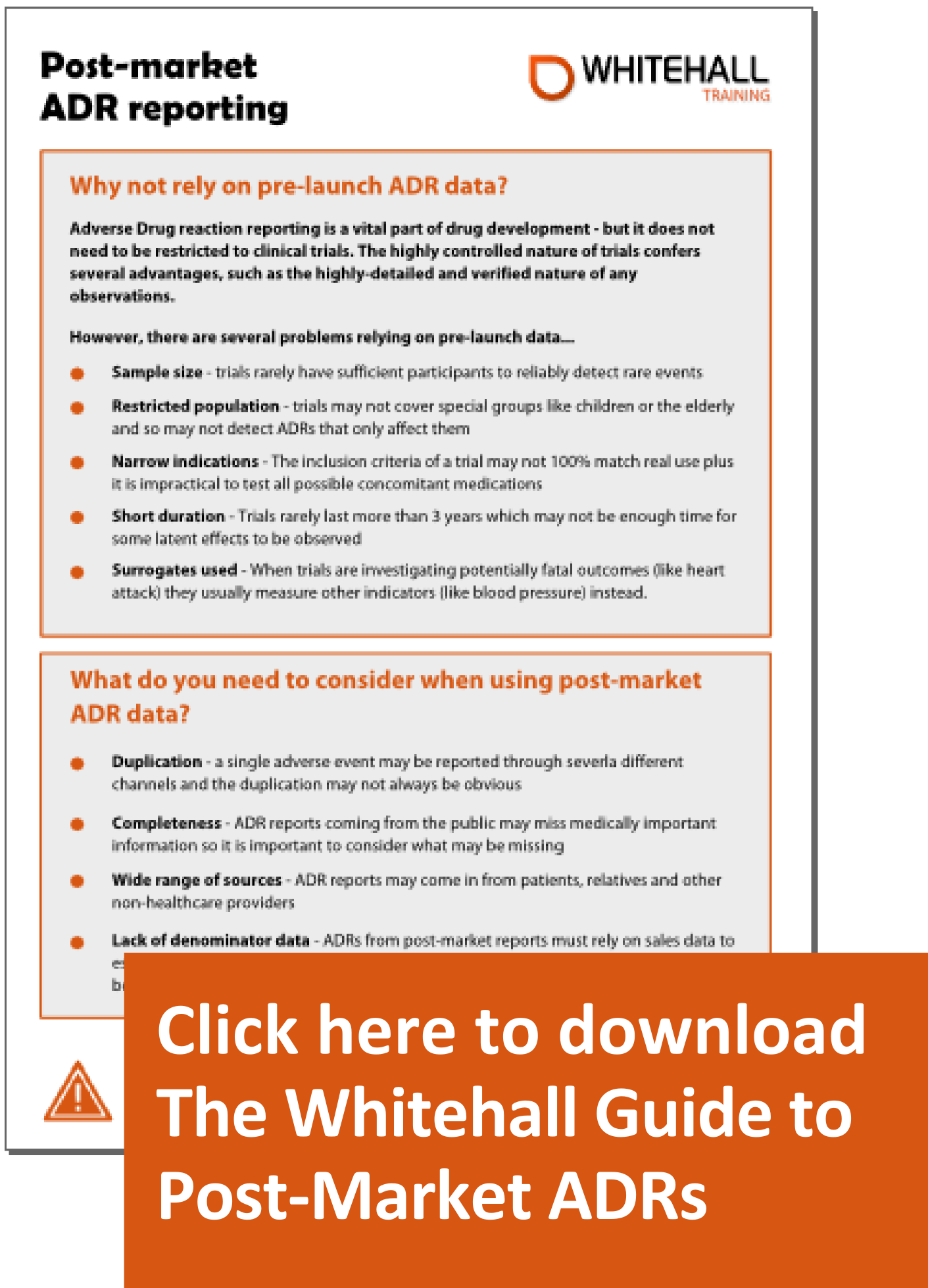 For more on the PROTECT project and particularly Quintiles' role, you can read their blog post [here].